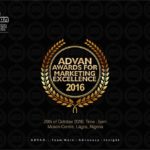 This year winners will be recognised in the following categories –
Brand of the Year
Brand Manager of the Year
Campaign of the Year
Consumer Promotion
Marketing on a Shoestring (NEW)
CSR
Experiential Marketing
Public Sector Marketing (NEW)
New Brand / Brand Revitalisation
Innovation
Digital/Social Media Marketing
Future Leader of Marketing
Brand Journalist of the Year
*Two new categories have been added to the list
The Heart of the ADVAN Awards for marketing excellence is to acknowledge and reward marketing professionals that have made outstanding contributions to the profession.
ADVAN prepares for the event with a promise to highlight the fundamental position marketing occupies in business and public sectors, and to celebrate marketing achievements across a range of industries. The Award will be a celebration of hard work and ingenuity in the marketing profession.
This year's edition of the ADVAN Awards for Marketing Excellence which holds onSaturday 29th of October 2016, promises to be one of the most exciting events in the marketing communications Industry and the nation as a whole.
In a bid to adequately award Marketing Excellence in its true form, there has been a complete overhaul of the Award Categories, Judging Criteria, and Selection process for the 2015 edition.
All entries will be judged by a team of the finest Marketing Professional in the nation and verified by the nation's leading independent marketing research organizations, to ensure a transparent selection process.
We recommend that you involve your agencies to assist in the submission of entries to ensure you meet the deadline
Also members of the Awards planning committee will be happy to meet with you if you require.
For further enquiries, please call Ediri-0803407205
Visit www.advanawardsng.com on how to enter.
Join us as we make history in the nation's Marketing Communications Scene.