Folakemi Ani-Mumuney (MCIM, HCIB, MNIMN)
ADVAN President/FirstBank Group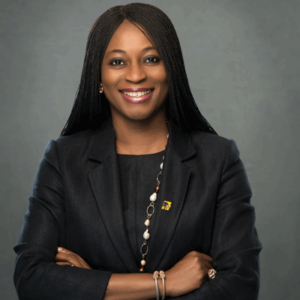 Folakemi, a seasoned marketer and communicator, heads the marketing and corporate communications function globally for FirstBank Nigeria Limited  with oversight responsibility for FBN Holdings Plc. FBN Holdings is the leading financial services provider in Nigeria, with subsidiary companies spanning Commercial Banking, Investment Banking and Asset Management, Insurance, Private Equity, Mortgages and Pension Fund Custodian Services – making it one of the most diversified financial conglomerates on the continent. With head office in Nigeria, FBN Holdings is the parent company of First Bank of Nigeria Limited (FirstBank), Nigeria's foremost and largest commercial banking group, with international presence in London, Paris, Beijing, Johannesburg, Abu Dhabi, Kinshasa, Accra, Banjul, Freetown, Conakry and Dakar where she serves as Group Head with responsibility for developing and leading the Group's strategic marketing and communication initiatives, enhancing and improving the positioning and image of the brand for effective business growth and development.
Folakemi in her 22 year career has gained a wealth of experience across Financial Services, Aviation, FMCG, Manufacturing, Telecommunications and Oil & Gas Industry sectors. During this period she has held varied roles, leading strategy and business planning, process reengineering, new business development and marketing, and served as Manager Brands, Policies and Communications Europe and Africa, British Airways Plc, Chief Marketing and Communications Officer, Dangote Group and Group Head, Marketing and Corporate Communications, FirstBank, all foremost, leading global brands.  She has managed portfolios in various locations globally and held responsibility for diverse regions such as Europe & Africa, Asia Pacific, Middle East and the United Kingdom at various points in her career.
An alumnus of the prestigious Harvard Business School, Folake holds a first degree in Philosophy obtained in Nigeria, a second degree in Law from the United Kingdom and a Diploma in Business Computing Systems Analysis and Design also from the UK. She has benefitted immensely from the many Executive Programmes she has attended at leading Business Schools in the US, UK and South Africa. She is a member of the Chartered Institute of Marketing UK, Chartered Institute of Banking and the National Institute of Marketing Nigeria amongst other bodies and is the current President of the Advertisers Association of Nigeria.
Folakemi currently serves as a member of the Presidential Committee on Efficiency amongst other public sector voluntary roles. She sits on a number of for profit Boards but is particularly keen on contributing on not for profit Boards with special focus on the attainment of the Sustainable Development Goals. She serves as the Vice Chairman on the Board of Junior Achievement Nigeria. Folake is especially focused on Africa and is committed to the growth and development of the continent and her people. She is happily married with 3 children and currently lives in Nigeria.