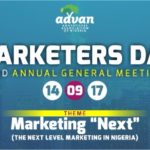 ADVAN is set  to host its Annual  Marketers Day and Annual General Meeting
Date: 14th of September 2017 Muson Center Onikan Lagos time AGM
Venue: Muson Center Onikan Lagos
Time: AGM 3pm (Open to ADVAN members only), Business Meeting 5pm
Guest Speaker: Mr. Uzoma Dozie (Group Managing Director Diamond Bank Plc)
About the day
A key objective of ADVAN is to build marketing capabilities, maximize performance and growth amongst our members.
The ADVAN Marketers day is a foremost platform for the discourse of marketing information and best practices in Nigeria.
The theme for this year's event 'Marketing Next' seeks to highlight the trends, technologies, and innovations that are fast emerging in the Global Marketing space, and how it will ultimately affect and shape the Nigerian Marcomms Industry.
The C-Level event will bring together, Industry Leaders, for a robust and stimulating session.
The day will also serve as the Association's Annual General Meeting and election of the executive members into office.
ADVAN the Advertisers' Association of Nigeria was founded over twenty years ago, to advocate the interest of the marketing industry in Nigeria by spearheading and ensuring global best practices as well as facilitating collaborative partnerships with relevant stakeholders. The Association is a member of the World Federation of Advertisers (WFA), a body of marketing associations in over 55 countries of the world and it is also represented on the Executive Council of WFA
Today ADVAN is a strong voice of the biggest marketers in Nigeria
Partnership opportunities are available
For more Information please call the on 08034075205 or email advansec2@yahoo.com or admin@advertisersnigeria.com.
[luv_heading node="h3″ title=" Register to Attend Marketers Day" font_color="#d88811″]