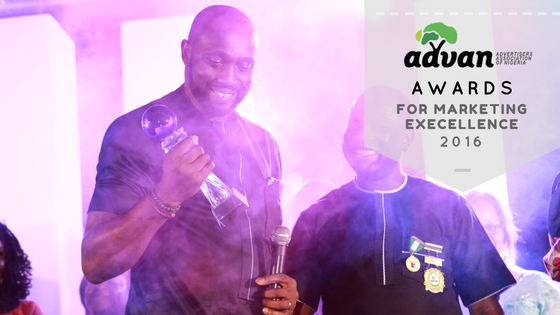 It is with great pleasure that we announce the official 'Call for Entries' for the ADVAN Awards for Marketing Excellence 2016.  The event is scheduled to hold on the 29th of October 2016 at the Muson Centre Onikan Lagos.
ADVAN is the only body in the nation to represent the collective interest of 'advertisers'. It was founded over twenty years ago, to advance the interest of the marketing Industry in Nigeria by spearheading and ensuring global best practices as well as facilitating collaborative partnerships with relevant stakeholders. Today ADVAN is a strong voice of 70 0f the biggest marketers in Nigeria representing over 200 brands with an annual marketing spend of well over N120 Billion.
ADVAN is a member and on the Executive Council of the World Federation of Advertisers, a body of marketing associations in over 55 countries of the world.
ABOUT THE AWARDS
The Heart of the ADVAN Awards for Marketing Excellence is to recognise and reward outstanding achievements through effective marketing, across a range of industries.  The winners' selection process remains one of our most valuable assets, all entries are put through a thorough and transparent judging process, our judges are leaders of industry from the various stakeholder groups within the marcomms value chain.
The ADVAN Awards, which is the most prestigious and respected awards in the Nigerian marketing community, provides the opportunity for organisations to gain competitive advantage by having their projects, initiatives, contributions, products and services recognised. The Awards' provide the ultimate platform for improving brand awareness, loyalty and retentions by increasing the respective recipients' prestige. The ADVAN Awards winners are acknowledged as industry leaders and named the elite in their industry. This year ADVAN will be hosting the 7th edition of the awards ceremony.
This Year Winners Will Be Recognised In The Following Categories –
·  Brand of the Year
·  Brand Manager of the Year
·  Campaign of the Year
·  Consumer Promotion
·  Marketing on a Shoestring (NEW)
·  CSR
·  Experiential Marketing
·  Public Sector Marketing (NEW)
·  New Brand / Brand Revitalisation
·  Innovation
·  Digital/Social Media Marketing
·  Future Leader of Marketing
·  Brand Journalist of the Year
*Four New categories have been added to the list
*PLEASE NOTE CRITERIA AND PERCENTAGE WEIGHTING
The Issue                                                                                       10%
The Solution (Including Marketing Outputs)                            30%
The Result (Marketing Outcomes)                                            30%
The Key Outcomes that contributed value to the brand/organisation   30%
100% 
We recommend that you involve your agencies to assist in the submission of entries to ensure you meet the deadline
Please visit the official awards website www.advanawardsng.com for more information.
Also members of the Awards planning committee will be happy to meet with you if you require.