Ediri Ose Ediale
Executive Secretary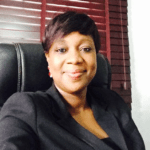 Ediri Ose-Ediale's is passionate about supporting people in achieving their life's vision, her motto in life is "If I can't make a difference to a great number of people, then I will make a great difference to just one person"Ediri, a seasoned communication, and management professional, is the Executive Secretary of the Advertisers Association of Nigeria (ADVAN) she is responsible for overseeing the strategic planning and implementation of the organisation's projects, as well as its administration.
In her role as ADVAN Executive Secretary, she successfully launched the first ADVAN Awards for Marketing Excellence, the first ADVAN Marketers Conference and the first ADVAN Industry Dialogue, programs which continue to provide significant value to the nation's Marcomms Industry today.  She also signed the association on as a member of the World Federation of Advertisers, a body of Global brands and National Advertisers' Associations in over 60 countries of the world, where ADVAN seats as National Representative on the Executive Board.Her career began at the Capital Express Insurance group, in the Corporate Communication Division, where she was responsible for developing and conveying the organization's internal and external messages.  Her strong capabilities in managing the strategic communication of the organisation earned her  the title of Divisional Head Corporate Communications in  a short period.
Ediri  is a graduate of English and Literature from the University of Benin Edo State, an Alumnus of the prestigious School of Media and Communication  of the Pan Atlantic University, an Associate member of the Advertising Practitioners Council of Nigeria (APCON) and the National Institute of Marketing of Nigeria (NIMN).  She has attended various local and international leadership and management trainings.
She seats on the  board of several Non-profit establishments including Champion's Nest, The ATG Project and  Smartuls, and is the founder of Treasured Vessels, an Establishment focused on Women empowerment
She is Happily Married and blessed with two beautiful children.  She is member of the Choir and Leader of the home fellowship in her local assembly.
When asked her greatest motivation in life, she attests that her faith in Jesus Christ is her highest inspiration.
[luv_button target="_self" size="" icon_display_effect="btn-icon-default-left" color_scheme="custom-color" text="PREVIOUS" icon="fa fa-long-arrow-left" href="https://advertisersnigeria.com/mrs-bridget/" color="#ffffff" background_color="#002800″ hover_color="#00ad0e" hover_background_color="#002800″]
[luv_button target="_self" size="" icon_display_effect="btn-icon-default-right" color_scheme="custom-color" text="NEXT" icon="fa fa-long-arrow-right" href="https://advertisersnigeria.com/bukola-bankole/" color="#ffffff" background_color="#002800″ hover_color="#00ad0e" hover_background_color="#002800″]