Bridget Oyefeso Odusami
2nd Vice President/ (Head, Marketing and Communications, Stanbic)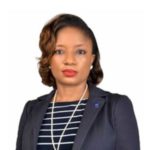 Bridget Oyefeso-Odusami is currently the Head, Marketing and Communications for Stanbic IBTC Holdings PLC. She is a multifaceted marketing professional with more than 22 years of global experience in brand strategy, sponsorships, digital marketing, data analytics and all elements of communications.
She has a proven track record in running internal and external corporate communications as well as products Integrated Marketing Campaigns (IMC) across various countries and sectors including aviation, NGO and financial services.
Bridget holds a Bachelor of Science degree in Botany from Lagos State University and a Post Graduate degree from the University of Leicester, UK. She is also a member of the Advertising Practitioners Council of Nigeria (APCON), the Chartered Institute of Marketing (CIM), UK, an associate member of the Nigerian Institute of Public Relations (NIPR) and a member of WIMBIZ (Women in Business and Management).
She has participated in various global business and economic summits. Her achievements in the course of these include: receiving the highest ratings for creativity, innovation and dedication for functional responsibilities at British Airways Plc; the best of British Airways community volunteering award whilst she effectively managed the brand, corporate image and reputation in Nigeria, Tanzania, Kenya, Nigeria, Ghana, Zambia, Mauritius, and Uganda.
[luv_button target="_self" size="" icon_display_effect="btn-icon-default-left" color_scheme="custom-color" text="PREVIOUS" icon="fa fa-long-arrow-left" href="#" color="#ffffff" background_color="#002800″ hover_color="#00ad0e" hover_background_color="#002800″]
[luv_button target="_self" size="" icon_display_effect="btn-icon-default-right" color_scheme="custom-color" text="NEXT" icon="fa fa-long-arrow-right" href="https://advertisersnigeria.com/executive-secretary/" color="#ffffff" background_color="#002800″ hover_color="#00ad0e" hover_background_color="#002800″]