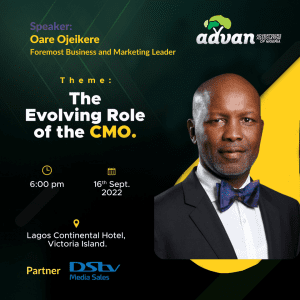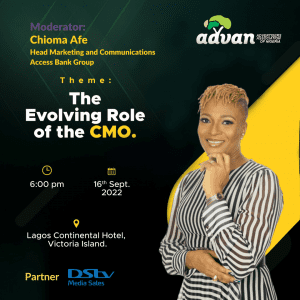 The ADVAN CMO Forum is scheduled to hold on the 16th of September, 6pm at the Intercontinental Hotel Victoria Island Lagos Nigeria.
Forum Objective
The forum  is an invitation-only event that provides a unique network of the nation's  marketing leaders with a platform to better navigate the fast-changing marketing landscape. The meeting is open to only senior, client-side professionals i.e.  CEOs, CFO, CMOs or the equivalent.
Our Focus
Leadership: Insight into the challenges facing our industry: leading to the development of actionable solutions for the industry and specifically for ADVAN member companies.
Our Speakers Include:
Mokutima Ajileye, Managing Director P&G Nigeria.
Oare Ojeikere, Foremost Business and Marketing Leader.
The session will be moderated by: Chioma Afe, Head Marketing and Communications Access Bank Group
2022 Theme: This year's theme focuses on the 'Evolving Role of the CMO'
The exclusive 2022 ADVAN CMO Forum will host over 50 CEOs CMOs and Business leaders from top organizations local and international.
The event is supported by DSTV Media Sales