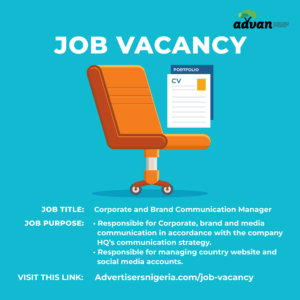 Job Title: Corporate and Brand Communication Manager
Job Grade: Manager
Department: General Management
Job Purpose:
Responsible for Corporate, brand and media communication in accordance
with the company HQ's communication strategy.
Responsible for managing country website and social media accounts.
Responsible For Corporate and Brand Communication
Responsible to: Managing Director and dotted line to the Global Corporate Communication Director
Key Accountabilities:
Preparing country's PR implementation plans and budgets of
institutions and brands in accordance with the company HQ's annual
communication strategy.
To manage country website and social media accounts in accordance
with the company HQ digital media strategies.
Researching, designing and conducting activities, sponsorship and
social responsibility projects to increase the awareness and
perception of the company and brands in accordance with the
company HQ's communication strategy.
Managing relations with PR, events, digital agencies and managing
project opportunities by organizing systematic meetings,
Developing new projects and managing communication activities
with opinion leaders, influencers and media on country basis.
Following developments and competitors in sector and reporting to
the Country General Manager and the company Corporate
Communications Department.
To ensure that the corporate identity is used by all employees in
accordance with the content, following up actuality
Editing all written texts related to company and brands (press
statements, speech texts, presentations, etc.)
Coordinating launch, press conference, fair, activities etc.
Planning and conducting internal communication and volunteering
projects.
Designing and implementing press launch, blogger launch, celebrity
events and the setup of B2C activities with PR and / or event agency
during the product launch, re-launch periods.
Preparing country specific pro-active crisis communication plan,
creating crisis information chain and editing of all texts in accordance
with the company HQ crisis communication strategy.
Experience:
 10 years' experience in corporate relations field. An FMCG
experience will be an added advantage.
Education:
 At least a B.Sc in related field, preferably communication, journalism
or marketing e.t.c
Skills & Capabilities
Analytical skills and attention to detail.
Team working skills.
Strong knowledge and understanding of current trends in digital
media/social media.
Self-motivated with a positive and professional approach to management.
Must possess excellent organizational and planning skills.
Must be a confident communicator and presenter.